Country songs about family include "forever and ever, amen" by randy travis and "coat of many colors" by dolly parton. These songs celebrate the importance of family and its unconditional love and support.
Country music has always been known to tug at the heartstrings with its sincere lyrics and soulful melodies. The genre often highlights family values, depicting the struggles, joys, and triumphs of home life through music. Family is a significant theme in country music, and many artists have used their lyrics to pay tribute to their loved ones.
From childhood memories to the challenges of marriage and raising children, country songs about family have captured the essence of what it means to love and be loved unconditionally. In this article, we'll explore some of the best examples of country songs honoring the importance of family.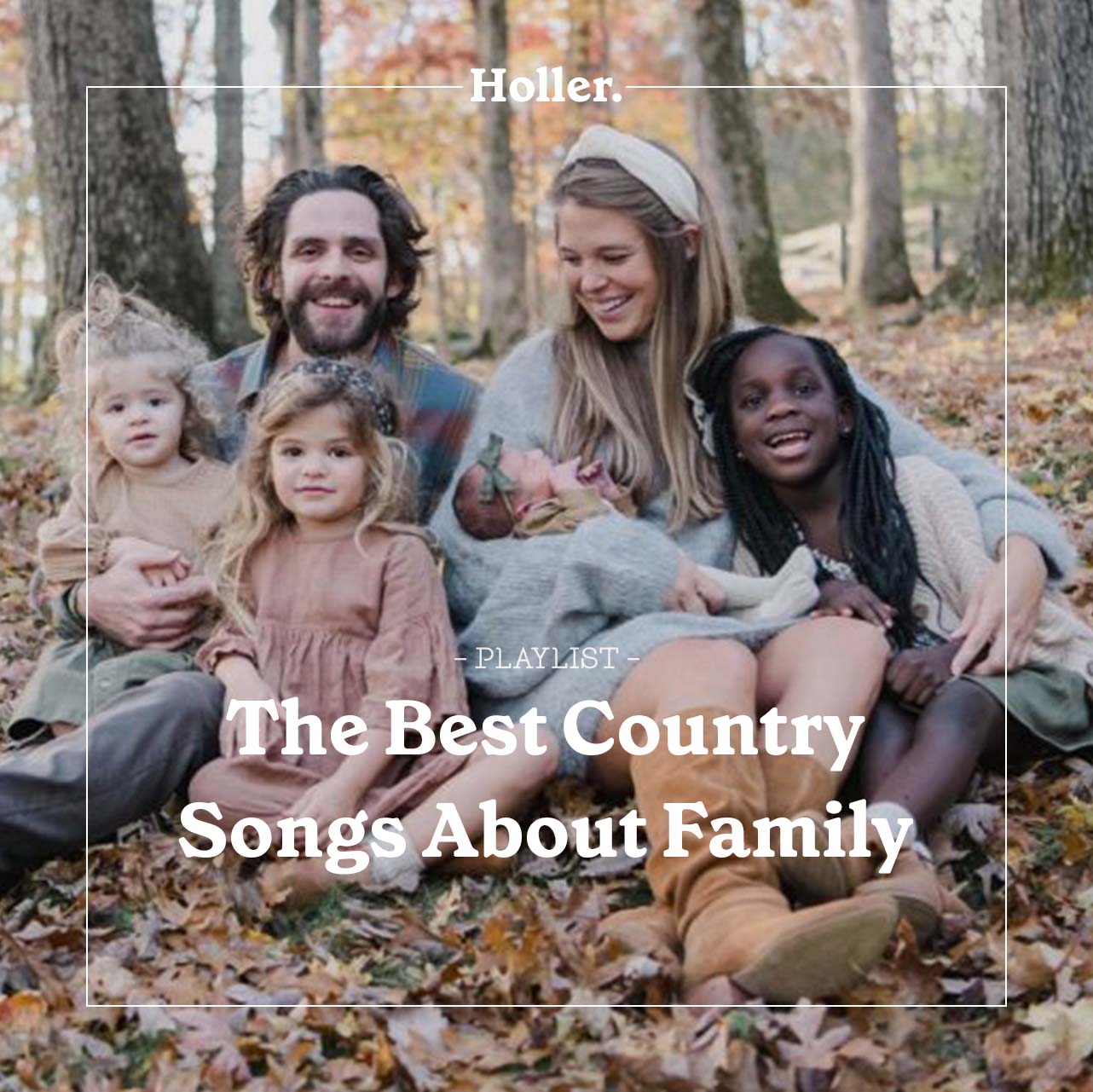 Credit: holler.country
Explore Eloquently Crafted Stories Of Family In Country Music
Brutal Honesty In Country Music
Country music has long been known for its brutal honesty, and nowhere is this more apparent than in its songs about family. These songs often tell stories of love, loss, heartbreak, and everything in between, all while shining a light on the deep-rooted connections that exist between family members.
Deep-Rooted Family Connections
At the heart of country music's narratives are the deep-rooted family connections that tie us all together. Whether it's a story about a grandfather passing down a cherished heirloom, a momma teaching her kids life lessons, or siblings sharing a bond that can never be broken, country songs about family always hit us right in the feels.
Some of the most iconic country songs of all time have explored the themes of family and its importance in our lives. Here are some of the best country songs that evoke a variety of emotions associated with family relationships:
"i hope you dance" by lee ann womack: A song that encourages listeners to take chances in life and go after their dreams
"the house that built me" by miranda lambert: A nostalgic song about returning to the childhood home where precious memories were made
"coat of many colors" by dolly parton: A song about the invaluable gifts of love and resilience passed down from a mother to her daughter
"my old man" by zac brown band: An ode to a father's unwavering love and support throughout life
"don't blink" by kenny chesney: A reminder to cherish the moments we have with our loved ones, as time goes by faster than we realize.
With their heartwarming lyrics and soul-stirring melodies, these classic country songs will forever hold a special place in our hearts, reminding us of the power and beauty of the bonds we share with those closest to us.
Notable Songs About Growing Up In A Country Family
Country music has always had a close relationship with family values and traditions. Many country songs have become massive hits over the years while celebrating the bond within their families. This blog post focuses on a handful of the popular country songs about growing up in a country family.
Each song highlights a unique aspect of the family bond that has resonated with countless listeners, and they include:
Right Where I Belong By Alan Jackson
This song takes a look into the cherished memories of a simpler time where family was the only thing that mattered.
It highlights the beauty of spending time with your loved ones and how it can create a beautiful and lasting relationship that can withstand anything.
Alan jackson's soothing voice and iconic lyrics transport the listener to a place of pure joy and happiness.
Some of the lyrics in the song include; "this old porch and rocking chair, this guitar and a handful of friends, keeping simple, singing out loud, heaven knows, i love this life."
Humble And Kind By Tim Mcgraw
One of the most significant values that most country families hold is teaching their children compassion, kindness, and humility.
Tim mcgraw's "humble and kind" highlights those values through the lens of parents advising their children to stay rooted in kindness and maintain an empathetic nature.
The sweet, heartfelt tune has won the hearts of millions of country fans worldwide. Some of the song's sweet lyrics say, "when you get to where you're going, don't forget to turn back around, and help others that are coming up the same road."
Coat Of Many Colors By Dolly Parton
Dolly parton's "coat of many colors" highlights the emotional bond between a mother and a child.
The song tells the story of how dolly parton's mother sewed a coat out of rags, and even though it was not brand new, it was the best coat she ever had.
The song resonates with listeners because it demonstrates that it's not about the materials or possessions that you have in life, but rather the love and relationship between a mother and her child.
The lyrics are heartwarming, and some of them include; "my coat of many colors, that my mama made for me, made only from rags, but i wore it so proudly."
Daddy'S Hands By Holly Dunn
Holly dunn's song is a heartfelt tribute to fathers and the critical role they play in their children's lives.
The lyrics act as an ode to her father's hands, which worked tirelessly to provide for their family and always supported them through tough times.
The song touches on the memories made with her father, emphasizing how important it is to hold onto and cherish those moments with the ones you love.
Some of the song's lyrics include; "i remember daddy's hands, folded silently in prayer, and reaching out to hold me when i had a nightmare."
Family Tree By Darryl Worley
Darryl worley's "family tree" is a tribute to the family line and how those connections are what shape our identities.
The song emphasizes the essential role of parents and grandparents who create an environment where a happy and healthy tree can grow and flourish.
The lyrics are uplifting and describe the importance of acknowledging and celebrating the lineage that created us in the first place.
Some of the lyrics in the song include; "we're all just one big family that's been growing on the same old tree, being shaped by each other's hand, and together we make up one big family land."
These songs are a testament to how family is the bedrock of county music. They remind us of the beautiful memories we make with our loved ones while highlighting the essential role of family values in shaping who we are as people.
Heartwarming Country Songs About Parents And Their Children
Country music has a way of telling stories that tug on your heartstrings, and songs about family are no exception. As we reminisce about our own families and the relationships we have with them, these heartwarming country songs about parents and their children capture the essence of those special bonds.
Let's take a closer look at some of the best country songs that celebrate the love between parents and their children.
He Didn'T Have To Be By Brad Paisley
Brad paisley's song tells the story of a stepfather who has become more of a dad than the biological one. A heartfelt tune that beautifully captures the special bond between a father and a son.
The lyrics are emotional and sincere, making it a popular choice for wedding dances and father's day dedications.
The song acknowledges the sacrifices and hard work that go into raising a child, and how a father's love is not measured by biology, but simply by being there every step of the way.
Love Without End, Amen By George Strait
George strait's classic ballad is a timeless tribute to the unbreakable bond between a father and his children.
The song's central message is that a father's love is unending and that it lasts through all of life's ups and downs.
The lyrics touch upon challenges that fathers and children often face, such as misunderstandings and disagreements, but ultimately celebrates the power of a father's unwavering love.
Watching You By Rodney Atkins
Rodney atkins' upbeat tune captures the adorable and often hilarious moments that happen between father and son.
The song is a touching tribute to the unique connection between a father and a child and the impact that fathers have on their children's lives.
The lyrics speak to the simple but profound joys of parenting and the precious memories we carry with us throughout our lives.
In My Daughter'S Eyes By Martina Mcbride
Martina mcbride's heartfelt ballad is a poignant tribute to a mother's love for her daughter.
The song speaks to the unconditional love a mother has for her child and the incredible strength and resilience mothers possess in the face of adversity.
The lyrics remind us that a mother's love is a source of comfort and guidance throughout our lives, even as we grow and become parents ourselves.
Forever Changed By Carrie Underwood
Carrie underwood's powerful song tells the story of a mother reflecting on her journey of parenthood from infancy to adulthood.
The song explores the many ways that becoming a parent changes a person, from the sleepless nights to the overwhelming love that fills a parent's heart.
The lyrics speak to the transformative power of parenthood and the profound impact that children have on our lives.
As we listen to these beautiful songs, we are reminded of the love, sacrifice, and joy that come with being a parent. Whether you are a mother, father, son, or daughter, these country songs about family serve as a powerful expression of the bonds that tie us all together.
Country Ballads About Siblings
Family is everything, and siblings are the ones who have been with us through thick and thin. They are an essential bond that we have, and country music has some famous ballads about siblings that evoke feelings of nostalgia and warmth.
Here are a few of the classics that made it on our list.
Don'T It Make You Want To Dance By The Pointer Sisters (Feat. The Oak Ridge Boys)
This upbeat ballad talks about the times when siblings come together and have a good time. It's about how reunion with family can turn a terrible day into a great one. Here are a few key points:
The song features great guitar licks and harmonies from the pointer sisters and the oak ridge boys.
The lyrics evoke a sense of joy and togetherness that is hard to beat.
The catchy chorus of "don't it make you want to dance" is sure to get you tapping your feet and feeling good.
Only Love Can Break A Heart By Gene Pitney
Siblings go through struggles, and this ballad by gene pitney expresses the pain of losing a sibling. It is a tear-jerker, so have a box of tissues on hand. Here are some key points:
The song is about the feeling of loss when a sibling leaves home.
The lyrics express how only love can hurt you, and it's true when it comes to siblings.
Gene pitney's voice adds to the haunting melody, and this song is sure to stay with you for a while.
Brothers Of The Highway By George Strait
This ballad talks about siblinghood from a different perspective. It is about the brotherhood between truck drivers who share the road. Here are some key points:
The song showcases george strait's unique voice and storytelling skills.
The lyrics describe the bond between truck drivers and how they are like brothers because they share the road.
The song is a beautiful reminder of how strangers can become family through shared experiences.
I'M My Own Grandpa By Ray Stevens
This comical ballad talks about a family tree that twist and bends in unimaginable ways. It's a perfect example of a country song that doesn't take itself too seriously. Here are some key points:
The song is light-hearted and fun, and ray stevens' voice adds to the humor.
The lyrics are hilarious as the song talks about how a man becomes his grandfather-in-law and repeatedly becoming his step-grandma's cousin.
This ballad is sure to bring a smile to your face and liven up any party.
Coat Of Many Colors By Dolly Parton
This emotional ballad is a tribute to dolly parton's mother, who made her a coat from scraps of fabric because they couldn't afford a new one. It talks about how siblings can find joy in the simplest of things. Here are some key points:
The song is personal and has a strong emotional connection to dolly parton's life.
The lyrics convey a strong message of love, despite living in poverty.
The beautiful melody and dolly parton's powerful voice make this song a timeless classic.
Country music has a unique way of talking about family, siblings, and their relationships. The five ballads mentioned here are some of the best in country music history. They evoke different emotions – joy, pain, humor, and love but they all show that siblings are a significant part of our lives.
Songs About Honoring Family Roots And Traditions
Country songs about family: songs about honoring family roots and traditions
Family is the cornerstone of country music, and many artists sing about the importance of family roots and traditions. Here are some of the best country songs about honoring family and their traditions.
The House That Built Me By Miranda Lambert
The song is about revisiting the house where the singer grew up and reminiscing about the family memories.
The lyrics are emotional, and they express the love and respect the singer has for her family and home.
The song highlights the importance of roots and how they shape us throughout our lives.
9 To 5 By Dolly Parton
While the song is predominantly about women's challenges in the workforce, it also alludes to the importance of balancing work and family life.
Dolly parton sings about the struggles of working to provide for your family while maintaining your personal life and family ties.
The lyrics highlight the importance of family and their support in our lives.
Chicken Fried By Zac Brown Band
Chicken fried is a celebration of the simple things in life, including the traditions and values passed down by family.
The song encourages listeners to appreciate the little things in life and shows that family traditions can have a significant impact on our lives.
The lyrics remind us that sometimes the most important things in life aren't things at all.
Boondocks By Little Big Town
The song reflects on the joys of growing up in a small town and having a close-knit family and community.
The lyrics highlight how growing up surrounded by family and strong traditions can stay with us forever and shape who we are.
The song shows appreciation for the values and traditions passed down by family and our roots.
We Rode In Trucks By Luke Bryan
We rode in trucks is a nostalgic song that reminisces about growing up in a rural town.
The lyrics connect with people who grew up in the countryside and had to rely on family members and friends for support.
The tune transports listeners back in time to the memories of their youth, creating a sense of shared experiences and values.
Family is the backbone of country songs, and these songs celebrate the unbreakable bond that ties them together. The lyrics show how family roots and traditions can have a significant impact on our lives, shaping who we are and what we value.
Frequently Asked Questions Of Country Songs About Family
What Are Some Country Songs About Family?
Some of the best country songs about family include 'in my daughter's eyes', 'coat of many colors' and 'love without end, amen'.
Why Are Family-Themed Country Songs So Popular?
Family-themed country songs are popular because they touch on the universal experiences of love, hard times, and triumph in family life.
Who Are Some Country Artists Known For Family Songs?
Some of the country artists known for their family-themed songs include dolly parton, tim mcgraw, reba mcentire, and blake shelton.
What Are Some Of The Most Iconic Country Family Songs?
Some of the most iconic country family songs include 'butterfly kisses', 'the dance', 'don't blink', '7 spanish angels' and 'grandpa (tell me 'bout the good old days)'.
Do Country Songs About Family Resonate With Listeners?
Yes, country songs about family tend to resonate with listeners as they touch on themes that are universal and relatable to people from all walks of life.
What Makes Country Songs About Family So Emotional?
Country songs about family often feature emotional lyrics that touch on issues such as loss, love, and regret, making for a powerful listening experience.
Conclusion
Family has always been a central theme in country music, and these songs about family demonstrate the importance of the ones we love. They remind us of the special bond that exists between siblings, parents and children, and grandparents. These songs invoke a nostalgic feeling, and they take us back to a time when things were simpler and more innocent.
They also remind us of the value of family, and how they can be a source of strength and support in our lives. Whether you're missing your loved ones, cherishing a special bond, or just feeling grateful for the moments you've shared, these country songs are bound to take you on an emotional journey.
Family is everything, and these songs echo this sentiment with heartwarming lyrics and catchy melodies. So, take a moment to appreciate the ones you hold dear and embrace the feeling of family, just as these country songs do.