We help you to make every effort counts, launch successful paid promotions and start making your way in this business as a music artist!
Are you one of the artists who do any of these?
ALL you have to do is to take the first step to the "tried and proven methodologies" and have a little faith in yourself. Because YOU are smarter than you think:
STOP for a moment and DROP what you're doing right now because it doesn't have to be that hard. Artists give everything they have…
The BIG question is… what are you going to do now?
We help you to get your true fans who will buy anything from you through online education, smart promotions and coaching programs

ONLINE COURSE
Learn the "tried and proven" system of growing your fan base, getting millions of monthly music streams, get paid and launch a rewarding career and business.

MARKETING & PROMOTIONS
Branding is the foundation of every successful artists and businesses. We'll help you to build everything from scratch through our DIY, DWY and DFY Services.

COACHING PROGRAMS
Even the most successful artists and entrepreneurs hire experts to help them grow in their career, business and life. Our coaching programs are based on your needs.
Chad Arrington
, known professionally as
Chad Focus
, is an American musician.
New Music: Chad Focus – Dance With Me Featuring Raeliss
Chad Focus – Get to the Money (Feat. Troyse, Cito G & Flames) (Official Music Video)
Blockbuster is trapped in brand limbo. Will it ever get out?
Discussing Today's Retail and E-commerce Deal Pipeline with Dr. Alex Mehr
Chad Focus has linked up with Raeliss to create a masterpiece
Chadfocus.com is a source for quality education, promotion and a platform for acknowledging the genius, heart and soul of Music Artists.
We dedicated our life from ideas, planning and research backed by over 10+ years of experience to craft our proven system in building our fan base, getting real online and radio promotions, generating profitable results and even starting our own personal projects to help a community and causes for women and children.
We measure success based on the difference that we make for our loved ones, community and contribution for society.
Chad Focus, the owner and CEO of Focus Music Entertainment, have generated over 200K fan base, over 4,000,000 in music streams and collaborated with successful artist, T-Pain, in his music debut Dance With Me.
Chad launched community projects where he raised funds for women battling breast cancer.
He also supported over 100 students as his scholars to graduate in school so they can pursue their dreams.
Behind the scene, he is a single dad who has strong family ties and he has been loved in his community for his big heart to help less fortunate people.
He owns several businesses in clothing, gadgets and e-bikes. He uses his profit and influence to teach young kids about business, music and life advice to follow their own dreams.
Our values are to continuously create projects that will help people regardless how society judges us, beat us and try to take us down. We believe that if we do the right things, it's worth doing and soul fulfilling.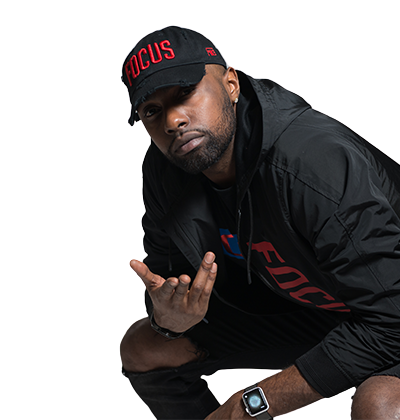 CHAD FOCUS HAS BEEN FEATURED ON
Learn How To Launch Your Rewarding Career As An Artist
Join the FREE Workshop about the 7 Step Proven Strategy in the Industry